Cardiff based fintech company Yoello has joined forces with FOR Cardiff to launch a campaign to '#BackCardiff' – offering cash-flow support to Cardiff based hospitality and retail businesses struggling whilst social distancing restrictions are in place.
Through Yoello's web-app platform, local hospitality and retail merchants can create a shop page to sell their products and services during lockdown. Customers can then purchase products directly from businesses, providing them with immediate cash-flow to help them during the lockdown.
The goal of the campaign is to motivate communities to help local businesses increase their cash-flow by purchasing right now to ease the strain that the lockdown has caused.
Scott Waddington, a Non-Executive Director at Yoello (and ex CEO of SA Brain) commented: 'The hospitality industry has been one of the worst affected sectors owing to the Covid-19 crisis and resulting social restrictions. The sector is responsible for employing millions of people whose jobs are now in serious jeopardy, particularly as the industry is expected to be amongst the last to be able to resume operating. Yoello's mission has always been to be at the forefront of helping the hospitality sector innovate through technology. We are now able to provide the sector with the urgent support that it needs.'
Adrian Field, Executive Director, FOR Cardiff said: "Through our work supporting the Cardiff business community, we have seen first-hand just how much the covid-19 crisis has negatively impacted businesses. Partnering with Yoello gives us an opportunity to assist our Cardiff business network with maintaining cash-flow during social restrictions through the Back Cardiff platform."
Yoello's #BackCardiff platform, which is also being supported by FinTech Wales and Cardiff Council, will be an entirely free service for Cardiff businesses. With thanks to investment support, Yoello is covering £1 million in payments to help merchants further.
FOR CARDIFF INTEREST GROUPS
To help our members and all businesses within the city centre and to mitigate the effects of coronavirus and work towards recovery, we're going to set up a series of online interest group meetings for those who work in particular areas or within certain sectors including:
.•   Professional / Office
•    Retail
•    Leisure / Hospitality
•    Marketing
The aim of the group meetings is to support each other by sharing ideas or examples of systems and procedures that your business may have put in place during this period. It's an opportunity to ask questions or advice on how to deal with challenging issues from those in a similar situation and, most crucially, to discuss plans and activities as we move into the recovery phase.
The hour-long discussion groups are open to anyone working at a business in city centre, whatever its shape and size. Working together and sharing the load will ultimately help businesses and area as a whole to get back on its feet more effectively once lockdown measures are lifted.
Before scheduling the meetings we are looking for expressions of interest, please click the link below stating your name, who you work for and which group/groups you'd be interested in attending and we'll be in touch when we have scheduled the first meetings.
TRANSPORT WEBINAR
Many thanks to those of you who attended our online sessions run for retail, hospitality and professional / education last week. Both Arup and Cardiff Council have fed back to say that your input was most useful in helping to produce the Safe Recovery Plan for the city centre.
FOR Cardiff are setting up a session for businesses to attend on Thursday 21st at 10am which will have a theme of transport matters – modes, demand, safety assurances, capacity etc. but will cover other areas afterwards.
We have invited representatives from Transport for Wales, Cardiff Bus, NCP and Cardiff Council to discuss what their plans are and how it will affect your staff and they will be on hand to answer any questions you have.
YOELLO AND FOR CARDIFF 'COVID RECOVERY'
FOR Cardiff and Yoello have launched a Covid Recovery Plan to help UK BIDs support businesses in their district and the local community by reopening hospitality and retail spaces with social distancing and mobile ordering in place.
What is the Covid Recovery Plan?
The Covid Recovery Plan aims to keep customers and staff safe during social distancing whilst also supporting businesses so they can thrive as they reopen post-lockdown.
Using Yoello's mobile ordering platform, communal areas can be set up for businesses to safely sell to the community.
How does it work?
When a communal area is set up, each table is fitted with a metal plaque featuring a scannable QR code. Customers can scan the plaque using any smartphone and without downloading any apps – by scanning the plaque they can then view a list of businesses from which they can purchase products or services that are then delivered to the table.
Communal areas can be set up to cater for anything from two neighboring businesses to large spaces with hundreds of merchants.
Merchants can take advantage of communal spaces to serve more customers whilst their venue is operating at a reduced capacity during social distancing.
Each merchant can also install Yoello's app-less platform in their own venue too. In-venue mobile ordering fits easily alongside a merchants existing system with POS integration available. The platform is bespoke to the venue and allows businesses to run both Table Ordering and Click & Collect.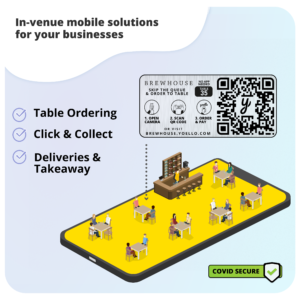 How does this platform benefit businesses?
App-less mobile ordering
Improves operational efficiency during social distancing.
Businesses become 'Covid Secure' – gaining increased uptake by being listed as a safe and responsible venue.
Easily utilise additional outside space, allowing your businesses to increase operational capacity whilst adhering to social distancing guidelines.
Maximise revenues through the safety and convenience of in-venue mobile ordering which has been proven to boost spend per head.
Yoello is an FCA authorised payment platform, ensuring payments are processed securely.
How is this being rolled out in Cardiff?
We are working with Yoello and local authorities to build a number of communal spaces throughout the city centre including a communal space inside Cardiff Castle. This will allow customers to enjoy their favourite local food and drinks in a safe but sociable outdoor environment.
If you would like to know more about FOR Cardiff and Yoello's Covid Recovery Plan for digital ordering solutions, please get in touch: https://www.yoello.com/hospitality.
FOR CARDIFF BUSINESS SUPPORT PORTAL
With an announcement imminent about when non essential businesses will be able to open again we wanted to create a forum so that our members were able to talk to one another and share best practice.This portal is open to anyone and also provides businesses with the FOR Cardiff digital safety kits, which can be downloaded in preparation for when you open your doors again. This includes posters with opening hours and social media assets to promote when you're opening and whether you're providing a delivery service etc. Take a look https://support.forcardiff.com/.
CARDIFF COUNCIL'S REOPENING STRATEGY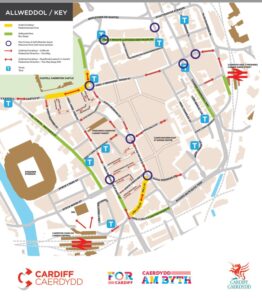 For further info and a copy of the letter sent to all businesses: Cardiff Council_City Centre Letter June 2020 ENG_p1-2