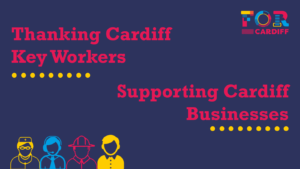 FOR Cardiff have pledged to donate 100 £25 gift cards to key workers in the city to show our gratitude for the hard work they are doing. We've also launched a CrowdFunder to allow the public to add their own donations and increase the amount of gift cards available. You can make a donation to the CrowdFunder here.
As well as giving these hard working people a well earned reward, the aim of this initiative is to encourage shoppers back into the city when restrictions are lifted. If you'd like to be able to accept these gift cards in your business then email emily@forcardiff.com for more information.
If your business is able to offer a reward to support our fundraising efforts then again please email emily@forcardiff.com to discuss.