FOR Cardiff have installed a 'happy to chat' bench in St John's Gardens in Cardiff city centre to mark Mental Health Awareness Week.
Mental Health Awareness Week runs from Monday 9th May until Sunday 15th May 2022 and this year the Mental Health Foundation has chosen the theme of loneliness – its effect on our mental health and how we can all play a part in reducing loneliness in our communities.
Covid-19 brought the experience of loneliness closer to millions of us. Research by the Mental Health Foundation found that loneliness was almost 3 times that of pre-pandemic levels.
Loneliness was not only felt by older generations. In fact, the Foundation's Mental Health in the Pandemic study showed that young people were more likely to report feeling lonely (44%).
FOR Cardiff installed the happy to chat bench to encourage the public to connect with one another, reducing isolation and feelings of loneliness in the community.
The happy to chat bench is painted green to represent the green ribbon – the international symbol of mental health awareness and the text on the bench is bilingual to encourage conversations in Cymraeg as well.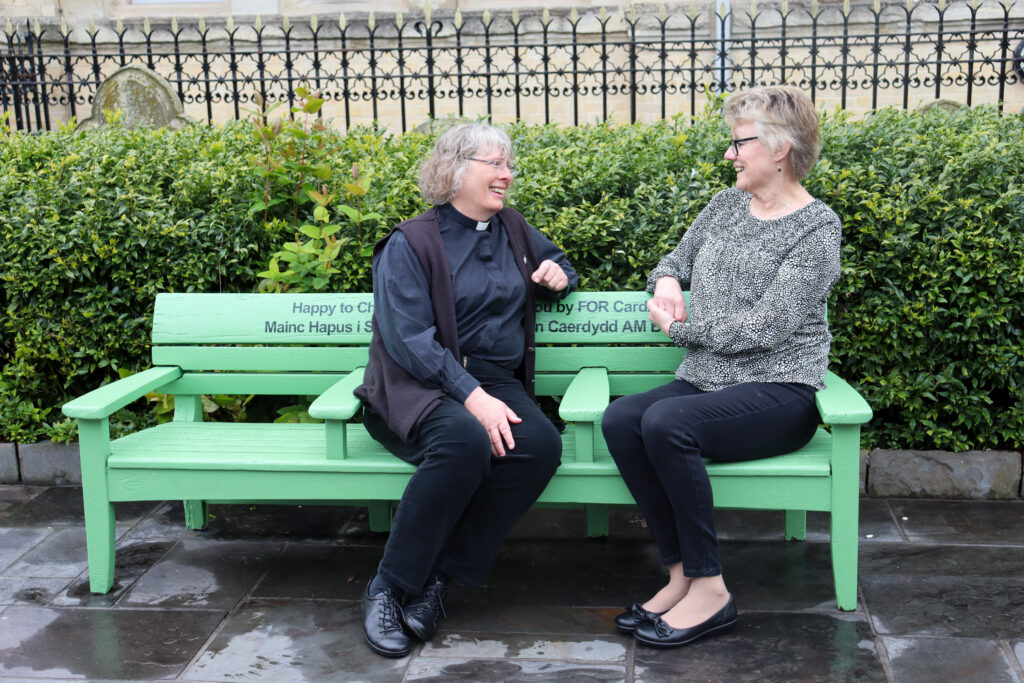 St John's Gardens is located next to St John the Baptist Church and was originally part of the church graveyard.
The Rev'd Canon Sarah Jones of St John The Baptist, Cardiff said:
"The newly installed bench in St John's Gardens offers a place for people to sit and talk with others amongst the beauty of nature in the heart of the city.

St John's is known for being a very welcoming, diverse and inclusive church and anyone is very welcome to come in or attend for a service."
FOR Cardiff revamped the gardens in 2018 and regularly work with Cardiff Council to make sure it's a welcoming environment for all to enjoy.
Adrian Field, Executive Director of FOR Cardiff said:
"Since re-opening St John's Gardens in 2018, FOR Cardiff has used the green space to encourage the public to connect – whether that's through live music, Christmas activity or the installation of a St David's Day daffodil arch.

The happy to chat bench is another way we are engaging with the community in Cardiff city centre while also highlighting the importance of conversation to our mental health."