The audio-visual trail featuring personal stories from Wales' LGBTQIA+ community, comes to Cardiff city centre this Pride Month
From the streets of Pakistan, clubs of Cardiff, hospital waiting rooms, and funfairs on Barry Island, eight heartfelt spoken stories will take listeners on personal and candid journeys, all focused on the theme of 'Proud', with the importance of representation at their core.
FOR Cardiff presents this special audio-visual trail created in collaboration with the spoken stories company, Heard Storytelling– specifically for the people of Wales – across the city centre, from 16th June.
Celebrating Visit Wales' Year of Trails theme, the eight beautiful living portraits will draw people around the city's streets and encourage them to immerse themselves in the true spoken stories from two different perspectives. Scan the QR code next to their image to hear their true story.
Among the stories, people will be able to listen to the voice of local artist and supporting partner of Pride Cymru, Nathan Wyburn, sharing his story of struggle and perseverance and the transformative influence of friendship. Nathan, a Welsh variety act artist, is known for his celebrity portraits and pop culture imagery, where he uses non-traditional media such as foodstuffs and household items.
Wyburn shared his excitement on being part of the exhibition, saying;
"It feels absolutely amazing to be part of Cardiff PROUD exhibition. One thing that I am extremely proud of is being Welsh and being a very proud Cardiff boy; so to be part of this, it's an absolute honour.

"I hope that anyone who listens to my story, will believe in themselves and not think of those things that other people have kept doubting them for and I really hope it inspires them in that way."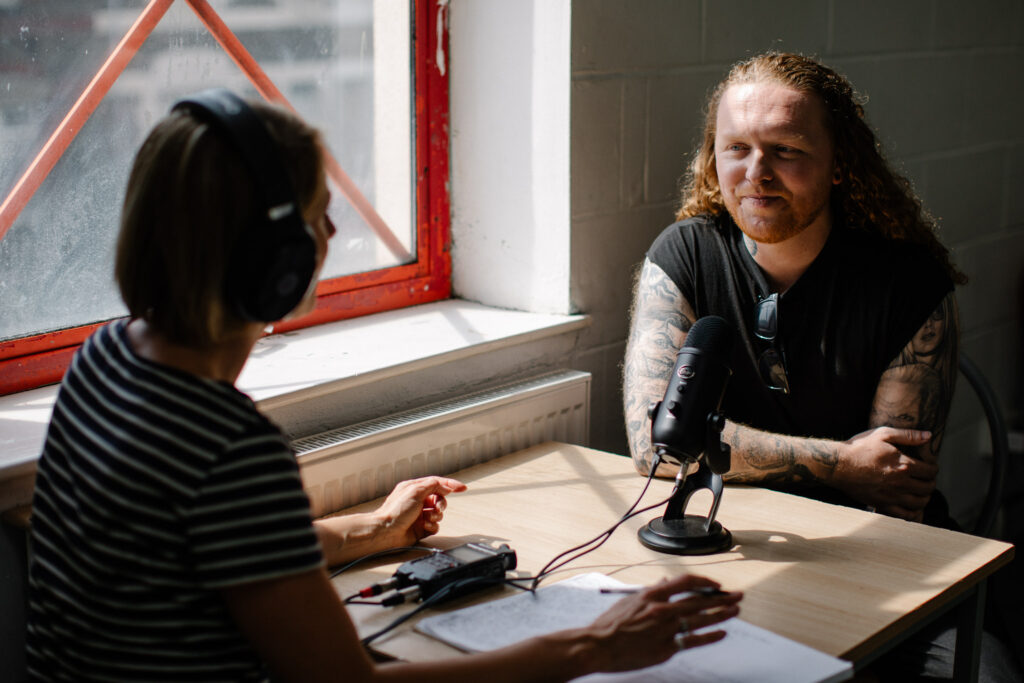 The exhibition, which was first created in Manchester by Heard Storytelling, also features award-winning author and founder of Drag Queen Story Hour UK, Aida H Dee also known as Sab Samuels. Through their story they hope to show the world that being different is to be celebrated by providing imaginative role models for children to look up to.
Carolyn Brownell, Executive Director (Interim) of FOR Cardiff, said;
"We are delighted to bring the PROUD exhibition to the city centre during Pride Month. The stories are truly touching, and we can't wait to share them with the public.

"As we continue our work on supporting businesses in Cardiff to be part of the Equality City initiative, we hope that sharing these stories will help bring a sense of understanding and unity to the people of the city. It is our remit to make Cardiff a safer city for all and we hope that this exhibition and its inspiring stories will help us take a step closer to that goal."
The exhibition will be available to view in prominent shop windows around the city centre, including Lush Spa, St David's Dewi Sant and also Monmouthshire Building Society whose Head of People, Beverley Flood added:
"At Monmouthshire Building Society we are passionate and committed about ensuing we create a diverse and inclusive culture for our colleagues, but also representative and supportive of our communities and members. Being part of the living portrait trail across Cardiff provides us with a fantastic opportunity to celebrate the proud stories shared by people from the LGBTQIA+ community."
Colette Burroughs-Rose, Director of Heard Storytelling, also said:
"Spoken storytelling is one of the most powerful tools for building connections. It has been an absolute privilege to collaborate with the storytellers, working together to develop and share their lived experiences. Our hope is that we can inspire and touch the hearts of listeners, fostering a sense of unity within the city."

I'd like to thank all our storytellers for trusting us with their deeply personal stories and allowing us to share them with the people of Wales. It is through their openness and generosity that we are able to bring these impactful stories to life."
Find out more: www.forcardiff.com/proud