FOR Cardiff have launched a Sustainability Hub to give its member businesses a quick and easy way to access sustainability resources and share best practice.
The hub is located within the members area of the FOR Cardiff website so users will need to work for a FOR Cardiff member business and sign-up on this page. New sign-up requests will be approved within 1-2 working days and once approved you can login and view the Sustainability Hub by selecting it from secondary menu.
FOR Cardiff has over 800 member businesses within Cardiff city centre so if you work in the city centre, you will likely be able to join. Click here to view a list of businesses that are members or email info@forcardiff.com to check if you are eligible.

The Sustainability Hub was created following a commitment in the 2021-26 FOR Cardiff business plan to supporting businesses and working with local stakeholders to improve sustainability and the greening of the city centre.

With regular posts containing useful resources and opportunities the hub aims to give businesses the guidance and support to become more sustainable.
Businesses can also share best practice or advertise unwanted office furniture/equipment by submitting their own posts to the hub.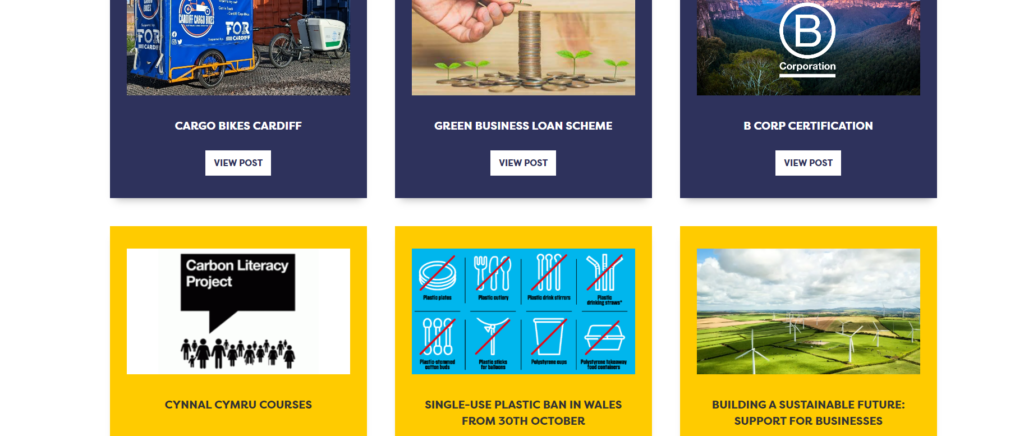 What can you find on the FOR Cardiff Sustainability Hub?
Information and resources: from helpful guides to training and events, the FOR Cardiff Sustainability Hub is a go to resource for improving your sustainability and environmental footprint.  It includes guidance on policy such as the single-use plastics ban and links to resources like a free waste audit template to help businesses gauge where they are and what actions they can take.  
Opportunities: the hub contains an array of volunteering opportunities, such as tree planting with the Coed Caerdydd Project, to

give businesses ways to be environmentally conscious when planning corporate social responsibility activities.

List unwanted items: to support the transition to a circular economy, the Sustainability Hub can be used to advertise

office furniture or equipment that is no longer needed. The Clayton Hotel recently advertised 10 LED TVs which were collected by The Sandringham Hotel. This is a great example of businesses coming together to minimise waste and reduce costs. 

Case studies: the Sustainability Hub signposts businesses to examples and best practice that they can implement within their business. If you would like to inspire others or share ideas, please get in touch by emailing nia@forcardiff.com or read our guide to submitting your own post below.

 
How to Submit a Post
Submit a post to the Sustainability Hub by clicking the 'Submit a Post' button under the page title. You will need to be logged into the members area to view this page.

2. Please select Sustainability Hub from the drop down menu.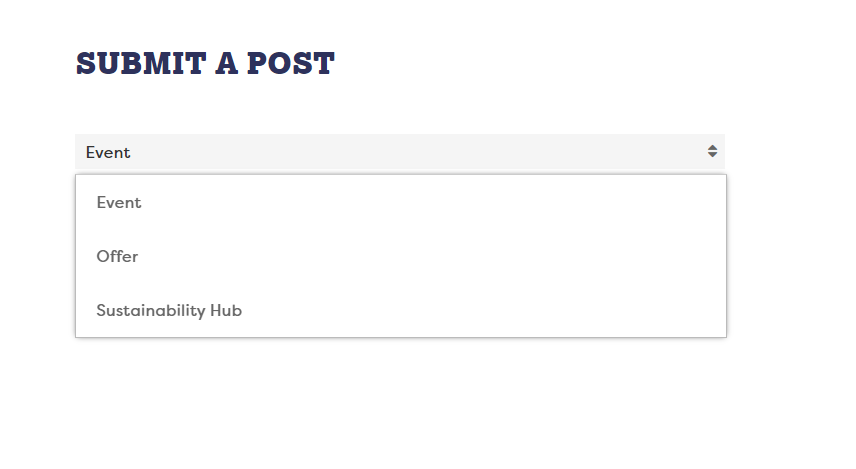 3. You will then be asked to complete a form and provide more information such as a description, imagery, a file such as a PDF and the length of time you wish to display the post.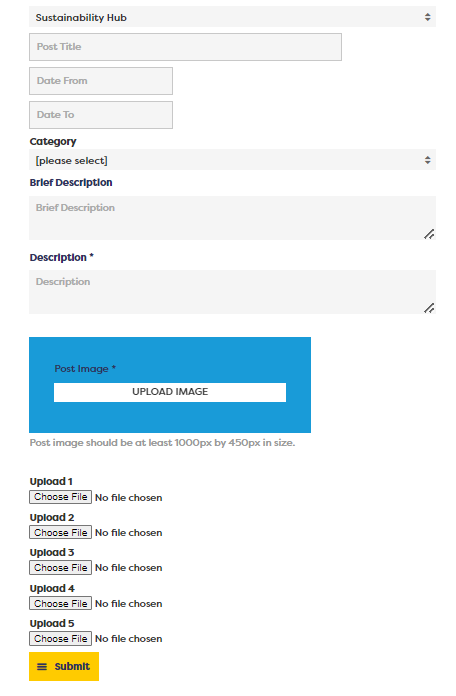 4. Once you press submit, the post will be sent to FOR Cardiff to review. FOR Cardiff aim to review posts within 3 working days. and may get in touch to request further information.
5. Once approved, it will be displayed to other Cardiff based businesses on the Sustainability Hub.
If you have any questions about the Sustainability Hub please email nia@forcardiff.com