The ArtHole shop in Castle Arcade is the latest project to benefit from the FOR Cardiff City Ambition Fund. The shop will showcase a changing variety of local artists, giving them an enhanced platform in the early stages of their career and helping them to build sustainable careers.
Cardiff illustrators Elliot and Kay have launched the shop in order to create a community hub for emerging artists to develop their careers. The project is a response to the difficulties they faced when attempting to develop their own careers after university and they hope that the platform they are developing will make the transition to a sustainable artistic career easier for emerging local artists.
They also hope to use the shop to host events and as a space in which artists can gather for networking, guidance and advice. Kayleigh and Elliot from ArtHole say, ''We are so grateful that FOR Cardiff's City Ambition Fund has given us this opportunity to fulfil our dream of opening a shop! We hope that this store will help to showcase and provide opportunities for emerging illustrators in Cardiff. Keep your eyes peeled for more exciting stuff coming your way soon.'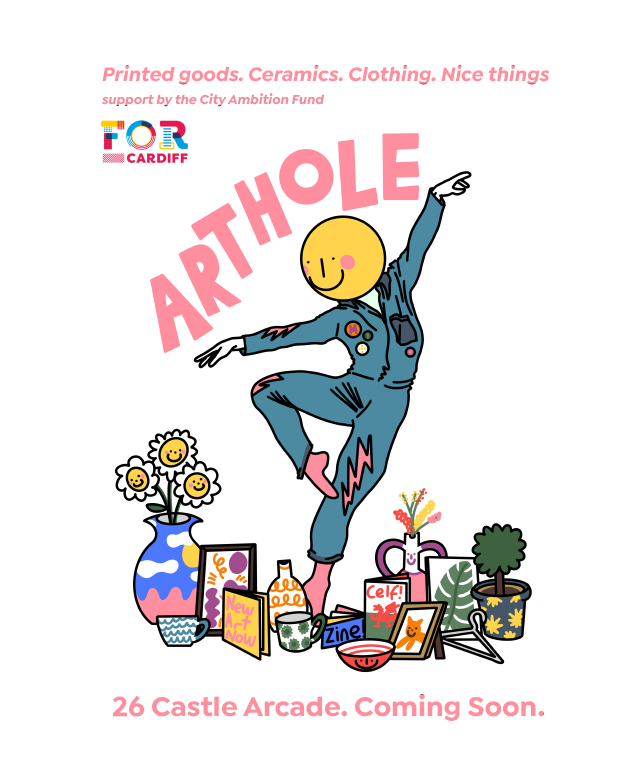 Adrian Field Executive Director of FOR Cardiff said, "the City Ambition Fund supports a wide range of projects that contribute to the overall aims of FOR Cardiff, in this instance that means centering arts and culture in the life of the city and adding to the vibrancy of the arcades. We've been pleased to be able to support this project  in its early stages
ArtHole is a registered CIC (community interest company) this means that any and all profits generated by ArtHole including through the City Ambition Funded shop will be reinvested into the business itself and the wider illustration community.